"I need to stop," I whispered to myself, as I clicked 'next episode'.
American Crime Story: The People v. O.J. Simpson
Wh

o of us hasn't heard

about the famous criminal case of O.J. Simpson (well

if

you don't really know who O.J. is, I'm pretty sure you at least heard of

his

lawyer

[

family

]

– Robert Kardashian).

Th

e

series

depicts the trial against O.J. "The Juic

e"

Simpson (starring Cuba Gooding Jr.),

a

famous american football player, who was tried on two counts of murder ( wife Nicole Brown Simpson and Ronald Goldman) in 1994. Th

e

case has been

described as the most publicized criminal trial in American history.
Also: American Crime S

tory

is a

s

pin-off

from the American Horror Story. Each season of American Crime Story will focus on a different crime. Click here for trailer.
"Absolutely, 100% not guilty."



Better call Saul
The main character Jimmy McGill is not your tipical lawyer. He's very resourceful and will sometimes find solutions that nobody would even think of or dare to think of. He always means good, although he hasn't

always got in mind the consequences of his actions.
Th

is

series is a prequel to Breaking Bad and shows

the life of lawyer Jimmy McGill before he became known as Saul Goodman, Walter White's

attorney

in Breaking Bad. Th

e series

itself

is a mix of comedy and drama. I'm always torn between laughing and just feeling sorry and being sad. Click here for trailer.
House of Cards

This is

b

inge-watching worthy

I'm telling you (well tbh what from Netflix isn't, right?). House of Cards is a political drama showing the story of Frank Underwood (starring Kevin Spacey), a democrat from South Carolina and House Majority Whip who has great ambitions, including the one towards being the President of th

e

U

.S.

. The series

presents

Frank Underwood as a ruthless, manipulative and pragmatic person who is willing to do whatever it takes. If you ever wondered what a true Machiavellian "Principe" looks like - Frank Underwood is the answer. I don't know if it's just me, but I

also adore this series so much because

of Frank Underwood's occasional direct interaction with the viewer. Click here for trailer.
Billions
Wealth,

recognition, success, health

and

family - nobody has it all. Oh, except Bobby Axelrod

,

a wealthy hedge fund king who became super rich by rel

ying

on insider trading. But things are about to get tense, since U.S.

a

ttorney Chuck Rhoades wants to go after Axe Capitals,

because

he suspects that Axelrod's accumulation of wealth might be a result of criminal activities. To spicen things up: Chuck Rhoades wife is a psychologist (who also likes to partake in BDSM practices with her husband

)

working for Axe

Capitals

and is in a really good relationship with Axelrod. So things are pretty much

predetermined

to get ugly. Click here for trailer.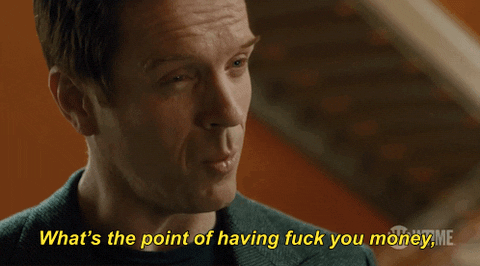 Making a Murderer
This is big in the U.S. right now. It's a documentary series based on a true story of Steven Avery who was wrongfully convicted of rape and served his sentence, until 18 years later the DNA-tests cleared him and he got released out of prison. After two years of freedom, he was then again convicted of a murder and got life without parole. A heartbreaking series that shows a cruel and corrupt site of american law system. It will leave you speechless.
This documentary had a major outreach not only in the States but a

lso

worldwi

de

. People are now petitioning for Avery's release and as the events and evidences unfold, maybe Steven

will get a chance of a new fair trial. Click here for trailer.
Honorable mentions

:

Game of Thrones, Fargo, Narcos, Power, Downton Abbey, Mr. Robot, Mad Men, Orange is the new Black, Masters of Sex, Penny Dreadful, The walking dead, Black Sails, Vikings, Turn

.
P.s.

:

T
hese
are all series
I rated with 8 or more
on
IMDB, so I
g
uarantee they're pretty much awesome
and you
r time won't be wasted.